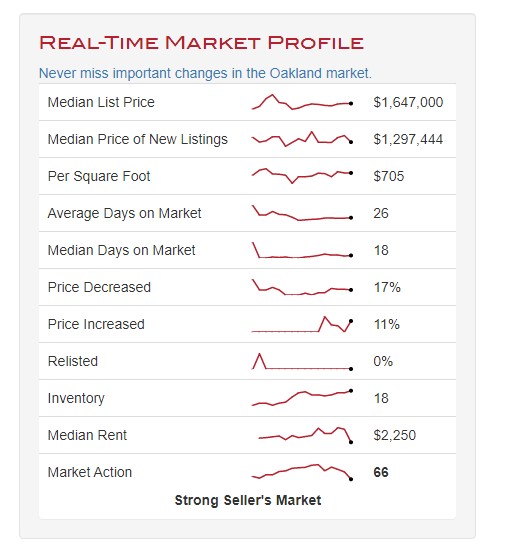 Market Update – Oakland 94610 – July 8, 2022
This week the median list price for Oakland, CA 94610 is $1,647,000 with the market action index hovering around 66. This is less than last month's market action index of 77. Inventory has increased to 18.
"How's the Market?" (rate of sales versus inventory)
The market has been cooling over time and prices have recently flattened. Despite the consistent decrease in Market Action Index (MAI), we're in a Seller's Market (where significant demand leaves little inventory available). If the MAI begins to climb, prices will likely follow suit. If the MAI drops consistently or falls into the Buyer's zone, watch for downward pressure on prices.
Basically, the market has been going at 100 mph and right now buyers have taken off the foot off of the accelerator and it's going at 80 mph. It feels slow but it is still moving. The fact is that there is still a housing shortage. Perhaps buyers have gone into vacation mode for a couple of months, you know. The summer months have generally been slower. Wait till buyers realize that November and December are coming with its holidays… and then winter. It is expected that buyers will return in the middle of August.
Need to sell or buy a house? Questions? Call me today.
Ernest Villafranca, Realtor
3923 Grand Ave. Oakland CA 94610
510-418-9443